NVIDIA
Question about graphics card, rx vs nvidia for budget pc?
Hello. I have a problem here. The choice arose before buying video cards Rx570 8gb SAPPHIRE Pulse and gtx 1650 Palit.
My computer is a budget fx 6100 + 970a-ds3p + chieftec gamearea 550w power supply + 12 GB of RAM.
In general, I need a card to play CS:GO and games such as FARCRY 5 (new dawn), gta5.
There is a discount in citylink 2k. I made an order for 1650, I'm ready to pay, and the dude stood next to me and said, don't take this unsuccessful line of video cards, better take the Rx 570, it's more powerful and more productive and stuff like that. What do you think? Take rx570 and pay 1.5k extra for it, or take gtx1650 for 9 oblique ones and don't worry, because I don't play especially productive games, or overpay but with a passion for the future?
Answer the question
In order to leave comments, you need to log in
2 answer(s)
You have to decide for yourself, it's very easy to do - google the tests of your video cards for specific games (which you need), look at a couple of different tests, and already decide whether it's worth paying extra N-amount for an increase in performance by M-percent. It's not worth listening to anyone's opinion from the street.
Rx570 8gb SAPPHIRE Pulse seems to me to be better. Well, at least in terms of features.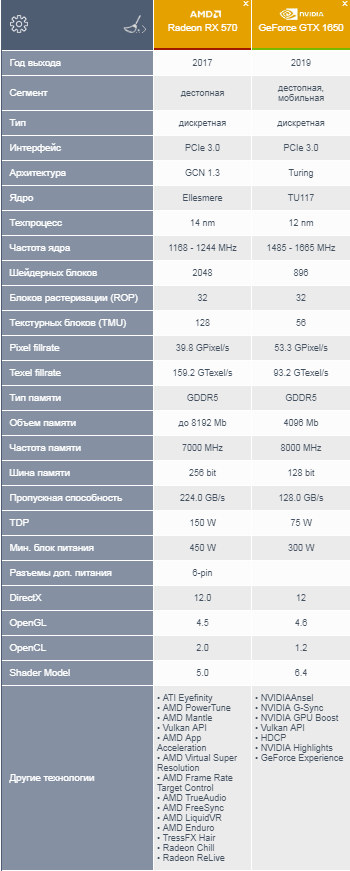 Ask a Question
731 491 924 answers to any question