WiFi
3g modem or smartphone as a source of internet for a laptop?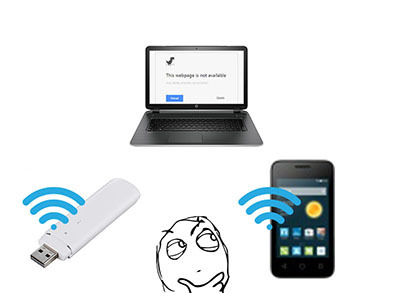 There was a need for mobile Internet for a laptop, I found two solutions on the market, a usb modem with SIM cards "ala" YOTA, etc. and smartphone in wifi sharing mode.
I would like to know the pros and cons of these solutions.
A cursory search on Habr and also simply on the Internet did not give answers to the question of interest, hope for you comrades.
Answer the question
In order to leave comments, you need to log in
2 answer(s)
Both options have pros and cons.
Phone:
+ can be placed in a place with better reception
+ Internet can be distributed to several devices
+ Supports communication for a tablet during a power outage
+ In case of something - you can call
- unknown stability in wifi distribution mode
- heating and degradation of the battery
USB modem:
+ not required separate power supply
- requires removal on an extension cord with a weak signal
- distribution to other devices via a laptop
An important determining factor - what kind of operating system do you have on your laptop?
Ask a Question
731 491 924 answers to any question