Mail server
2 mail servers on the same domain, how to forward between them?
Hello !
There is such a situation.
Let's say the domain.ru domain
Mail is used for the domain from Yandex. Deployed own HMailserver with the same domain.
HMail - needed only for sending emails from Bitrix. Letters can be sent both to other domains - gmail, mail, company, etc., and to other users within the domain.ru domain
. Yandex is needed to receive and send letters. From Yandex traffic rules to hmail - you do not need to send letters, from hmail to Yandex traffic rules - you need to. The scheme for clarity is this -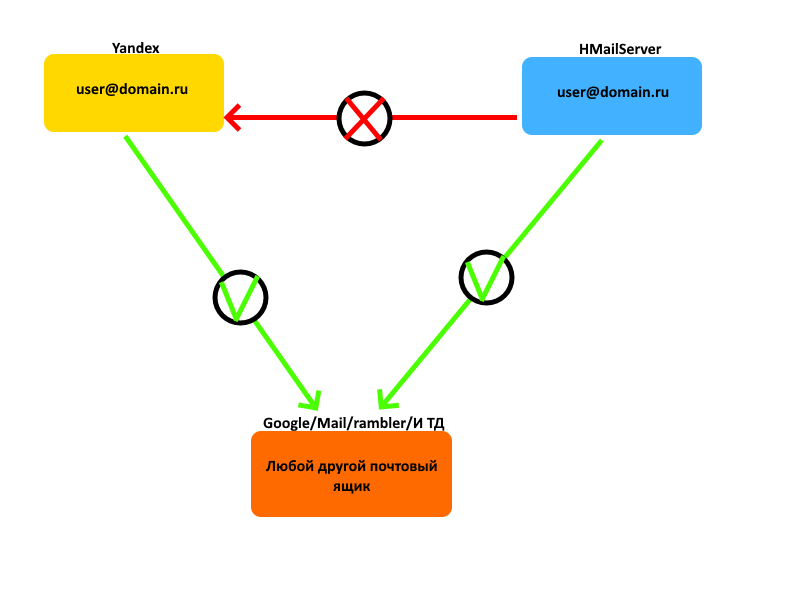 But a problem arises -

[email protected]
   Error Type: SMTP
   Remote server (77.88.21.158) issued an error.
   hMailServer sent: <Password removed>
   Remote server replied: 553 5.7.1 Sender address rejected: not owned by auth user.
The error is clear what it says that you need to be an authorized user [email protected], he is authorized on hmail but not authorized on yandex.
Tell me the best way to implement it so that everything works according to the scheme.
there are such thoughts -
1) When sending a letter from hmail to YPDD, do user authorization on Yandex (I don't know if it's possible to implement this in hmail, but it seems possible), but at the same time it becomes difficult that it is necessary that the mailbox exist in both hmail and in YPDD, at the same time, if mailboxes are changed / added / removed - this creates some difficulties in terms of control and relevance. Also, when changing the password, you will have to change this password in 2 additional places. (shortly not convenient)
2) to send from hmail to ypdd, send on behalf of the @mail.domain.ru domain, but in this case, if there are several recipients, recipients not in the domain.ru domain will see the mail.domain.ru sender - this is also not well.
3) there is a radical way to abandon the JPD, but it has historically happened, and I would not like to refuse it.
Answer the question
In order to leave comments, you need to log in
Ask a Question
731 491 924 answers to any question