macOS
Why won't my Mac OS charge when the adapter is on?
In short, the situation is this, I have a macbook pro 2015, when there is no special load on the system, it charges properly. When 100% holds for a long time at a certain load. But here I came across such a thing, and I can not understand why. When I start streaming on OBS, then firstly there is a normal load on the computer, so that the coolers are spinning, there, of course, the safari is open with tabs and some videos, etc. Secondly, does the boot sign change from a lightning bolt to a plug? I am attaching screenshots. And charging slowly falls, much slower than without charging at all, but still. I'm used to the fact that if the charging is connected, then the charging either stands still (in the worst case) or slowly picks up, regardless of the load on the PC. Can you explain to me why this is so, perhaps this is a feature of the poppy. The system has been updated and everything is ok.

P.S. if you stream, for example, for two days, then soon the charge will drop to zero, with the charge turned on, and such a course of events.


spoiler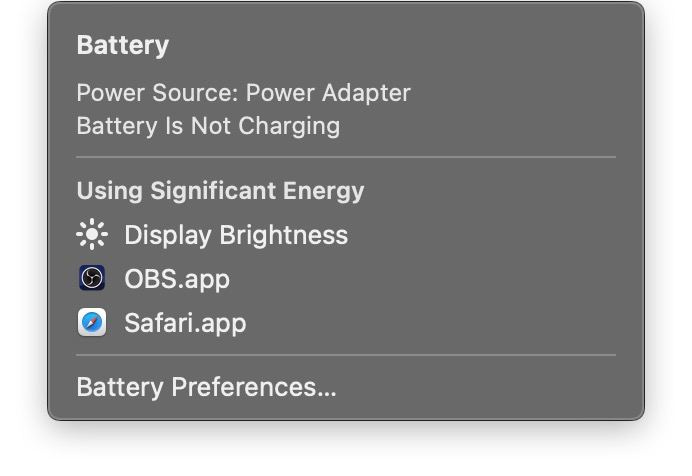 Answer the question
In order to leave comments, you need to log in
2 answer(s)
DevMan, 2022-03-13
@laslo232323
try disabling battery monitoring.
https://support.apple.com/en-us/HT211094
Maybe they fell in love with a network adapter? When I ordered from abroad, it turned out that they sold it with a 60 watt adapter, but it should be 80 watts, it seems. The symptoms were the same, with a heavy load, even while charging, the battery slowly discharged
Ask a Question
731 491 924 answers to any question