Active Directory
How to add a group from a trusted domain to the root domain?
Good day!
There are domains A and B. A trust relationship is configured between them.
There was a need to add to the OU "employees" (domain A) a group that is located in domain B.
If there are no problems with adding this group to the "users of a remote desktop", then when trying to add this group to the OU "employees" there were difficulties.
In the "location" selection window, the trusted domain is not visible in the list.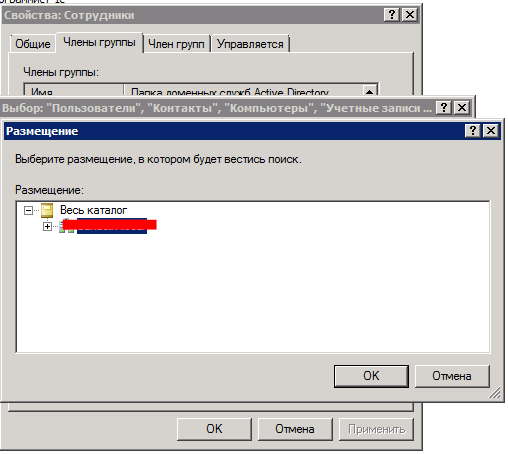 Googled that it can be done. but in this topic, a person needs to assign admin rights to a user from another domain.
I need to do this in order to remove an extra position from the ACL of the folder on the file server, so that the group of users from domain B is included in the group of employees of domain A.
(by the way, this user group of domain B is successfully added to the ACL rights on folders and everything works)
Can you tell me if this operation can be done?
Thanks in advance!
Answer the question
In order to leave comments, you need to log in
1 answer(s)
Good afternoon.
Try to re-read your message - do you understand the difference between OU and group?
If I understand correctly - you need to include a group within a group. Specify which Group scopes are set for both groups? First of all, make sure that the group in your domain has scope set to domain local.
Also read about Group scope - you will learn a lot of useful things.
Ask a Question
731 491 924 answers to any question