1C-Bitrix
1s Bitrix, problem with mail?
Hey guys, this is the situation.
I will send mail from Bitrix via smtp using cutom_mail.



There are no errors, it says sent.
Y is also in b_event, everything is ok.
I look in the dispatch logs, it's not the addresses themselves that come to the address, but #MAIL_TO#, that is, Bitrix did not substitute my data.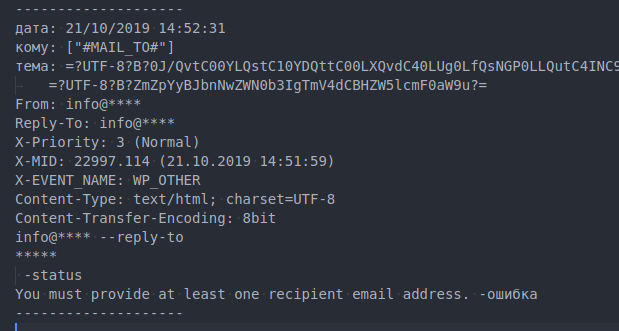 What could be the problem?? This is the first time I've encountered this. And changed filters and # and without them. That is:



Bitrix 15.06 was not like this before, everything worked.
Answer the question
In order to leave comments, you need to log in
2 answer(s)
Sergey, 2019-10-21
@gangstarcj
You don't need to put # in php code. Only in the mail template itself.
"EMAIL_TO" and "EMAIL_FROM"
you are fundamentally not sending mail
according to RFC correctly, there are no Russian characters in the headers and require encoding
https://webew.ru/articles/297.webew
Ask a Question
731 491 924 answers to any question